You'll access the embed code for your video from the Share page after you've exported your video. Hover your mouse over the video tile that you want to embed on the My Projects page and click on the 3 horizontal dots. Select Share from the menu that appears.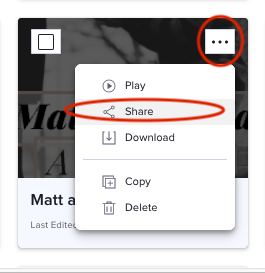 Click the Embed menu on the left hand side of the share page to access the embed code and select your share settings.

If you are embedding your video on your website, check the box that says Loop. When you're done, click copy to add the embed code into your website. Now you're ready to share!